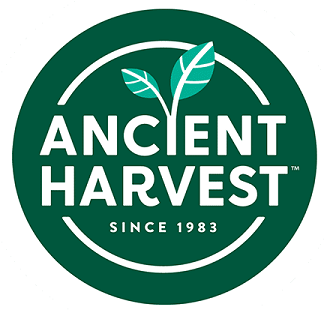 Ancient Harvest
Sales (YOY)
in Natural & Organic
Growth Dollars (YOY)
in Natural & Organic
Out of 799 (YOY)
in Shelf Stable Pasta
ANALYTICS POWERED BY

In our kitchen, ancient never gets old. Our products take time-tested, plant-based, nutrient-dense ingredients and turn them into delicious, real foods that are ready for real life. How's that for teaching ancient foods new tricks? It all started in 1983 when we became the first company to bring an interesting "new" grain called quinoa to the United States. We instantly fell in love with the versatility and timelessness of this plant-based powerhouse, and began our commitment to sourcing the highest quality quinoa and supporting the farmers who grow. Whether you're looking for delicious plant-based foods, a company that's founded in integrity, or a community of people who are working to change the way the world thinks about food, you've come to the right place.
Looking for more information?
Notice (8): Undefined variable: total_count [APP/View/Sellers/brands.ctp, line 163]
Categories of Interest
Available Terms:
Cash Advance, Net 15, Net 21, Net 30
---
Frequently Asked Questions
Where are your products made?
Ancient Harvest products are made in the United States and Italy. Our quinoa is sourced from Bolivia.
Are Ancient Harvest™ products made with genetically modified organisms (GMOs)?
Our products are not made with GMO ingredients. We believe you have a right to know what is – and isn't – in your food, and we're doing our part by enrolling in the non-GMO Project. All of our products are verified by the non-GMO project. Check the package for the butterfly logo.
Are Ancient Harvest™ products vegan?
You can count on Ancient Harvest to provide nutritious, satisfying options for any and every lifestyle, including vegan diets. All of our products are great for those on a vegan diet. Some of our facilities have dairy in them, but it comes already packaged in most cases. There is very little risk of cross contamination.
Are Ancient Harvest™ products kosher?
Most Ancient Harvest™ products are Star-K kosher certified. When in doubt, look for the kosher symbol on the package.