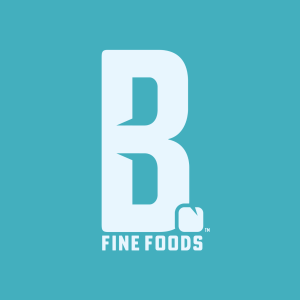 B. Fine Foods
Sales (YOY)
in Natural & Organic
Growth Dollars (YOY)
in Natural & Organic
Out of 1701 (YOY)
in Shelf Stable Nuts, Trail Mix, & Dried Fruit
ANALYTICS POWERED BY

Handcrafted with powerhouse ingredients and packed with purpose, we fight for your right to snack strong. No Junk. No worries. Eat the way you want, and everything will B. Fine.
Looking for more information?
Notice (8): Undefined variable: total_count [APP/View/Sellers/brands.ctp, line 157]
Categories of Interest
---
Frequently Asked Questions
Aren't banana chips high in sugar?
Not ours! We use green Saba bananas, which have 75% less sugar than the ripe Cavendish bananas that you're used to eating from the grocery store. Most of our Kettle Cooked 'Nana Chips and Grain Free Snack Mixes contain only 1g of total sugars per serving. According the International Glycemic Index Database, any foods with a GI value under 55 are considered Low Glycemic. Fully ripe Cavendish bananas are listed with a GI value of 51 (still low glycemic). Green bananas are listed with a value of only 30. Another wonderful benefit of our green bananas are that they are high in resistant starch, which have a prebiotic effect. Before bananas ripen, they contain mostly resistant starch (which will convert to simple sugars if allowed to go thru the ripening process). Studies show that resistant starch can lead to better digestive health.
Do you offer vegan snacks?
Currently, all of B.Fine`s products are veganEXCEPT our Bourbon Vanilla UnGranola, which does have honey. Additionally, our entire facility is egg and dairy free, as we want to offer a large variety of products for a wide range of restricted diets.
Are your products keto-friendly?
Yes! We currently have keto granolas and keto nut mixes that have only 2 and 3 grams of net carbs per serving. These are fantastic options if you`re on the keto diet!
What if I don't like bananas?
We use green saba bananas in many of our products. These bananas are pretty fantastic since they taste nothing like the cavendish bananas that we`re so used to in the US. They almost like a clean slate... a little bit like a potato... so that means we can make our bananas taste however we want! So, if you don`t like bananas, I would recommend you try anything except our Bananas Foster UnGranola, which does actually have banana puree as an ingredient (as in... it tastes like bananas!).
What are B. Fine's food certifications?
We are Project Verified Non-GMO and are certified Kosher, Vegan, and Paleo by Earth Kosher.
How do I check for food allergens in your snacks? Do they vary with your products?
You can check for for food allergens on the back packaging of all of B.Fine`s products. Allergen information is also included on our product pages. If there is a specific ingredient you are looking for, please examine the list closely. All B.Fine products are produced in a dedicated peanut free and gluten free facility that processes tree nuts.