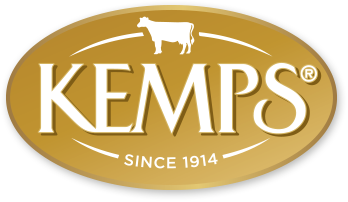 Kemps LLC
Sales (YOY)
in Natural & Organic
Growth Dollars (YOY)
in Natural & Organic
Out of 1208 (YOY)
in Frozen Desserts
ANALYTICS POWERED BY

Welcome to Kemps Country. Higher standards. Happier families. Healthier communities. It's a legacy you can taste in every sip, scoop and spoonful.
Looking for more information?
Notice (8): Undefined variable: total_count [APP/View/Sellers/brands.ctp, line 157]
Categories of Interest
---
Frequently Asked Questions
Are Kemps Ice Cream products safe for those with life threatening reactions to peanut/nut allergies?
We have an allergen control program in our ice cream plant. However, we do NOT have a dedicated line for nut containing products. We recommend that you consult with your doctor regarding the risk. At our ice cream manufacturing facility, we do not use any tree nuts or peanuts on the equipment that produces IttiBitz flavors. In fact, IttiBitz flavors are manufactured in a separate room at our Rochester location that does not handle any tree nuts or peanuts.
How does Kemps define "Organic"? What does "Organic" really mean?
Kemps "Organic Milk" is milk sourced directly from family farms that are certified organic by an independent certification agency. The agency is independent of any milk plants or bottlers. The cows that produce Kemps Organic Milk are never treated with antibiotics or growth hormones. In addition, the feed and grain fed to the animals is never treated with herbicides or pesticides.
Who certifies Kemps Organic milk as Organic?
QAI (Quality Assurance International) is a leading USDA-accredited organic product certifying agency. Founded in San Diego, California in 1989, QAI has been an active leader in the organic industry, advocating for high integrity organic regulations since its beginning. QAI is commited to ensuring organic integrity at every link in the orgainic production chain and providing excellent customer service, domestically and internationally.