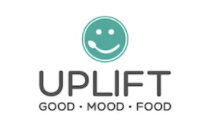 Uplift Food is the worlds first functional food brand to focus exclusively on the Mood Supportive Benefits of PRE-biotic Gut Healthy Foods. We take complex science and translate it into practical solutions to help you feel Uplifted! We aim to make your life that little bit simpler in today's busy and confusing world. At Uplift Food HQ our focus is on helping you, our fellow Uplifter, easily get more beneficial PRE-biotics into your body.
Looking for more information?
Notice (8): Undefined variable: total_count [APP/View/Sellers/brands.ctp, line 162]
Categories of Interest
---
Frequently Asked Questions
Are your Gut Happy Cookies Kosher?
Yes the Gut Happy Cookies are Kosher OU certified
Are your Gut Happy Cookies Gluten Free?
Our cookies are made with no gluten containing ingredients - at present they are manufactured on a line that also processes wheat/gluten and therefore are unable to attain a gluten free certification.
Your cookies only have 6 or 7g of net carbs - do you use sugar alcohols in your products like many other keto products, as these sometimes upset my stomach?
Our Gut Happy Cookies are completely free of sugar alcohols, no erythritol, sorbitol, manitol or other. Rest assure you will not get any of the side effects commonly experienced from sugar alcohols with our cookies.