No Joke: Grovara Co-Founders Dine With Kevin Hart, Philadelphia Leaders In Pursuit of DEI in Entrepreneurship at JPMorgan Chase Event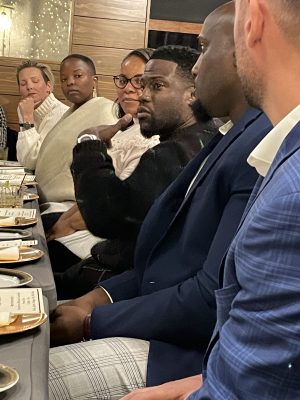 "In order to gain mass appeal, you need to be able to tell a good story," says the world's highest-paid comedian Kevin Hart, speaking to a group of Philadelphia-area business and community leaders over a dinner organized by JPMorgan Chase last Friday at SouthSide on Mt. Vernon St. in the Spring Garden section of the city.
"Without the story, all you have is the person."
Hart has mastered the art of storytelling after an uninspiring start to his standup career, focusing his material on his own insecurities and life experiences. His marketing and entrepreneurial savvy has helped him become one of the most popular comedians of all-time. 
The Philadelphia native is not only a major movie draw with numerous endorsement deals (Nike, H&M), he is chairman of his digital platform the Laugh Out Loud Network and CEO of HartBeat Productions, a multi-platform production company that has a first-look deal with Netflix for four feature films. He also has developed a knack for investing in disruptive companies. His venture capital firm HartBeat Ventures has invested in 30 companies since launching in 2019. Most recently Hartbeat invested in BrightFox, an enhanced electrolyte beverage. 
Hart has also done brand ambassador work with JPMC, and last week embarked on a three-day speaking and engagement tour across Washington D.C., New York, and Philly to visit Chase branches, small businesses, and community organizations. The goal was to engage with business, philanthropic and community leaders to discuss creating more diversity, equity opportunity and impact through entrepreneurship. 
Local JPMC bankers hosted a dinner to cap Hart's local tour, including some of Philly's most inspiring minds, like Grovara Co-founders Abu Kamara and Peter Groverman, COI Energy Founder SaLisa Berrien, AnaOno Founder Dana Donofree, Coded By Kids Founder/CEO Sylvester Mobley, Misfits Market CFO Anthony Antonello, The Tactile Group Founder/CEO Marc Coleman, Wilco Electronic Systems Executive Vice President Brigitte Daniel, City Fit Girls/Strides Co-Founder Kiera Smalls, Ernst & Young Partner Consultant Shola Oguntunde.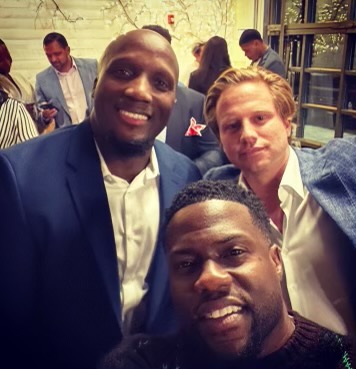 "The local JPM Commercial & Private Banking teams are huge fans of everything that Peter  and Abu are building at Grovara," says JPMC's Joseph Biancaniello. "We are grateful for the relationship that we've built with them and we're delighted that they could participate at last week's event with Kevin Hart to discuss impact and opportunity through entrepreneurship and how we can all partner to forge a path to greater prosperity for all Philadelphians."
Kamara had the pleasure of sitting next to Hart for dinner, and the comedian was grateful to learn how Grovara and other attendees were helping make his hometown a better place to live, work and achieve.
What did Hart think of Grovara's story?
"That's some dope-ass shit," the comedian told the co-founders.